Master of Theology (M.Th)

The Degree of Master of Theology (M.Th.) is a post-graduate program offered by the Manipur Theological College in collaboration with the Martin Luther Christian University, Shillong. As per the policy of the College Council Act, it is a full-two years' residential post graduate-level degree programme. This is designed to equip persons for teaching in theological colleges, and to provide the knowledge and skills necessary for meeting the needs of different forms of ministry and to develop academic proficiency for independent research. This course is offered in the areas of Christian Theology, Christian Ministry and Religion. Responsibility for administering the programme solely lies on the college academic council. The M.Th. curriculum is designed to include an integrative and interdisciplinary approach to study with due awareness to the need for specialization.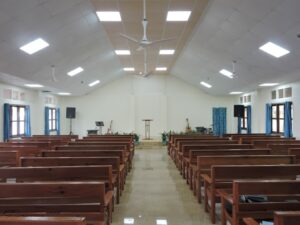 objectives of the program:
To train candidates for teaching in theological colleges.
To equip candidates with adequate academic tools and skills for critical and methodological reflection as well as creative participation in the diversified ministries of the church.
To develop holistic knowledge and proficiency in candidates so that they may engage in   independent and contextual research which may lead to advanced study at the doctoral level.
To promote contextual, contemporary and inter-disciplinary perspectives which will help critique our own understanding of theology and develop an integrative, plural, diverse and holistic to achieve knowledge and thinking and deepen our understanding of spirituality.
The candidate at the time of admission to the M.Th. degree course must satisfy one of the following conditions.

Candidates should hold a first or second class B.D/M.Div. or equivalent from any recognised College.

The candidate should pass the entrance examination conducted by MTC.
Candidates should have an overall average of at least grade B (60%) and secure second class at least grade B (60%) in three papers in the branch he or she intends to study M.Th.
The College conducts entrance test and interview for the admission of the candidates. Candidates who seek admission are tested in the areas of Language (English), Scripture Knowledge and General Knowledge. To test the applicants' ability to communicate in English, communication skills and assess the personality and commitment of the applicant, the candidate is also interviewed by the college council.